Mommy says that I should thank her friend Tina for writing a lovely post on her site about my site. She is an awesome mate she has two great blogs
Mummy Diaries
and
Game Freakz
.
The other friend mommy says I should thank is her friend Tammy for making me my badge and she made one for mommy's place to. She also has two blogs
Mom Knows Everything
and
A Little Girl Talk
.
They are two of the bestest peoples ever. I'm glad mommy has friends like them she deserves it. I want you to run on over to their blogs and tell them Max sent you.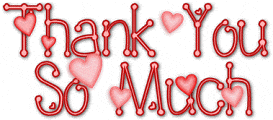 glitter-graphics.com